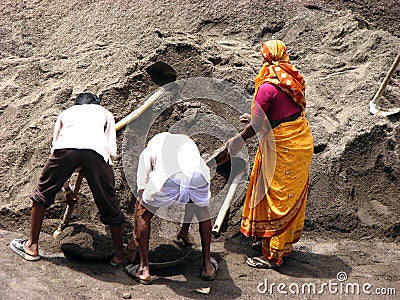 Following the deaths of four workers, construction work at three sites in a hillock near Bellatimattam in Alakarai village, 6km away from Coonoor in the Nilgiris, has been stopped by the Nilgiris district administration. On December 22, 2016, four workers were buried alive in a landslide in that construction site while erecting a revetment wall to support a road being laid within a private tea estate. One worker was seriously injured. All five construction workers hailed from Dharmapuri district. Construction and road laying works were being carried out to convert a private tea estate near Bellattimattam.
A case was registered against thirteen by kin of the four deceased. On December 23, 2016, eight people were arrested, in Coonoor in connection with this. According to the police, the main accused is Poddhar, owner of Coonoor Tea Estates. Anil Sha and Kiran Sha, owners of the sites carried out the road work with the consent of Poddhar. Owner of Alpha Constructions undertook the work. Gopal, the ex-president of Yedappalli panchayat had given building licenses for construction of houses in the tea garden located in the hillock.
---
Meanwhile, officials doubted whether the up-coming buildings were duly licensed by the concerned authorities. Hence, P Sankar, the Nilgiris Collector, ordered an enquiry in this regard. "The enquiry report revealed that all three owners of the buildings under construction had violated rules. The constructions are not as per the sanctioned plan. Secondly, all the three buildings have hugely exceeded the sanctioned built-up area of 1500 sqft. Moreover, the buildings are being erected on very steep terrain which is very risky," said Sankar.
After receiving the report, the district administration issued an order to stop work at the construction sites in Bellattimattam. A show cause notice to all the three owners of the buildings have also been issued stating why the illegal buildings cannot be demolished. "We are waiting for a reply from the accused. Based on the reply we will take further action," said the collector. According to Sankar, a truck loaded with boulders without permit was also seized at the construction site.
Before the police could arrest the main five accused out of 13, they obtained bail from the district court. According to the police, even the eight arrested have come out on bail. "The case is under investigation. We are in the process of collecting proper evidences and ascertaining the roles of all the accused so as to file a charge sheet," Sakthivel, inspector of police, Upper Coonoor Police Station told TOI.
'Elephant' Rajendran, an advocate of the Madras high court and an environmentalist told TOI, "There is a clear cut order from the high court which states that besides usage of JCBs, poclines and tipper lorries, any building activities disturbing the hills could be held as against the court order. The Nilgiris district collector is fully empowered to stop or suspend such activities in the hill district without even consulting other department officials".