Mettupalayam consitituency's third assembly election was held in 1962. This election was decisive for the Congress candidate Mr.N.Shanmugasundaram who won on a 11.55% (6253 votes) margin. The opponent Mr.K.Vellingiri from Communist Party of India managed 19145 votes. The only other candidate was Mr.K.R.Krishnaswamy, from SWA who secured a respectable 7655 votes. It is to be noted that Mr.N.Shanmugasundaram belonged to the Vokkaliga community and also a congress candidate which is believed to have given him victory in this election. The Communist Party of India nominated its first contest in this constituency. Swaminatha Chettiyar contested the third time and failed to win the seat again. His total vote tally rose by a minuscule percentage to offer a small relief for him and his voters.
---
Tamil Nadu politics was witnessing the rise of DMK in the state as a force in this election. This party projected itself as the force for the dravidians. The polling percentage increased from 66.86% (1957) to 74.21% (1962) in this election. The total electors increased from 69821 (1957) to 76665 (1962).
RESULT ANALYSIS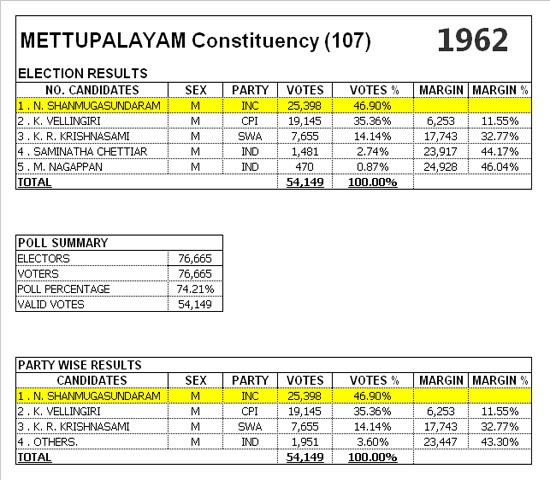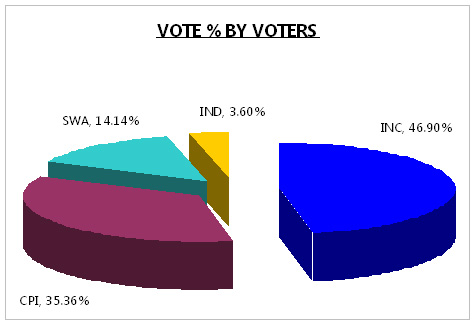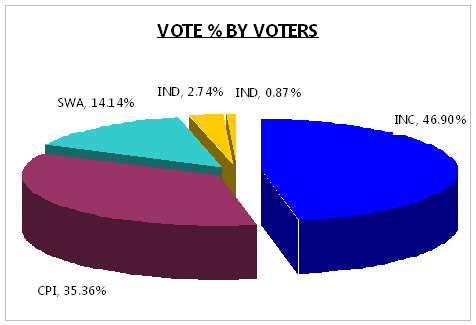 Data Source : Election Commission of India.