Mettupalayam's fourth assembly elections were held in 1967. The DMK party forms government in this period at the state level. The congress nomination to this election was from again the Vokkaliga community and the success formula continues from the previous elections. Mr.N.Shanmugasundaram the MLA for the period from 1962 – 67 decides not to contest this election and a candidate from Thaliyur (Thondamuthur) area Mr.T.T.S.Thippiah who won the election against the DMK Candidate Mr.Thooyamani with a margin of 4.55% (2973 votes).
---
DMK as rose in prominence in this period in the state and also in this constituency. The congress winning margin changed from 11.55% to about 4.55%. The lost ground of 7% was a reasonable loss in this election for the Congress party although in won the seat. The impact of Mr.MGR was also a key factor in this election. This election was the start of Dravidian party rule in the state. It is popularly believed that the lack of co-ordination during the food crisis let to this great sea of change in DMK's favour. It is to be noted that the great Congress Leader Mr.Kamaraj lost this election to a student leader Mr.Sreenivasan (DMK).
RESULT ANALYSIS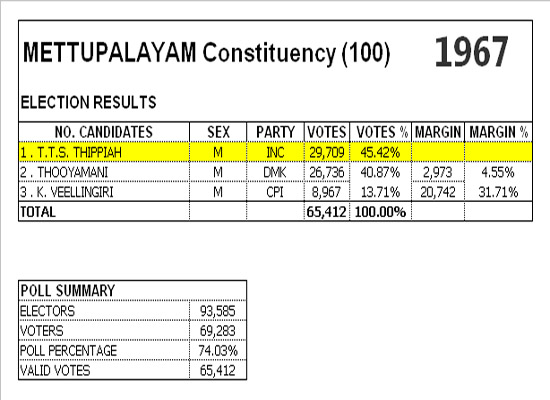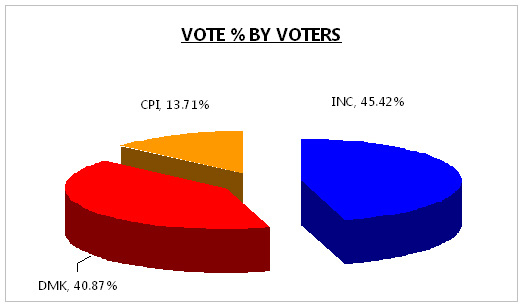 Data Source : Election Commission of India.