2001 Assembly elections gave a change of leadership at the state and consitutency level at Mettupalayam. The AIADMK won the assembly and Mettupalayam elections comfortably. Mr.A.K.Selvaraj from Athimathaiyanoor near Karamadai was elected comfortably with a 28.81% margin. He was also honoured with the Ministerial berth of the Department of Housing and Urban Development on taking office as MLA. He served as a Minister for a brief period until Sep 2001. Invalid votes in this election was a marginal 7 votes as opposed to more than 7800 in the previous election.
---
This was the election that witnessed the situation where AIADMK-led front won the elections and its leader, J. Jayalalithaa was sworn in as Chief Minister, even though she could not legally run as MLA in this election. She was unanimously nominated as Chief Minister by her party and was ready to serve her second term. But due to criminal and corruption charges from her first term, on September 21, 2001, a five-judge constitutional bench of the Supreme Court of India ruled in a unanimous verdict that "a person who is convicted for a criminal offence and sentenced to imprisonment for a period of not less than two years cannot be appointed the Chief Minister of a State under Article 164 (1) read with (4) and cannot continue to function as such". Thereby, the bench decided that "in the appointment of Ms. Jayalalithaa as Chief Minister there has been a clear infringement of a Constitutional provision and that a writ of quo warranto must issue". In effect her appointment as Chief Minister was declared null and invalid with retrospective effect. Therefore, technically, she was not the Chief Minister in the period between May 14, 2001 and September 21, 2001. After her resignation in September 21, 2001, she put in O. Panneerselvam, as the official 13th Chief Minister of Tamil Nadu, until she could clear up the charges from her first term, so she can take up the mantle of Chief Minister officially, on March 2, 2002. It is believed by various sources that the DMK lost power due to
anti-incumbency factor,
problems of development cited by the people in many areas of Tamil Nadu, and
a broad coalition formed by ADMK, including Tamil Maanila Congress, left (DMK Alliance), Pattali Makkal Katchi (PMK), Indian National Congress and the left parties.
The coalition allies PMK left citing authoritarian type rule by J. Jayalalithaa, and TMC's merger with the Indian National Congress which later resulted in the Indian National Congress joining the DMK alliance.
RESULT ANALYSIS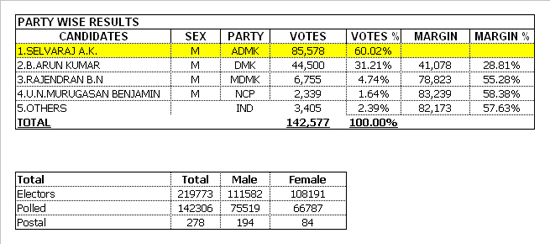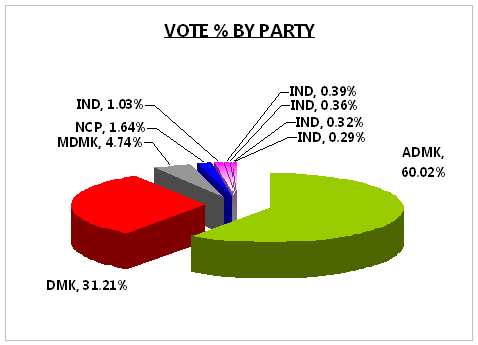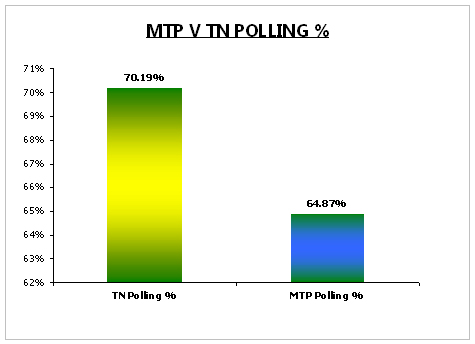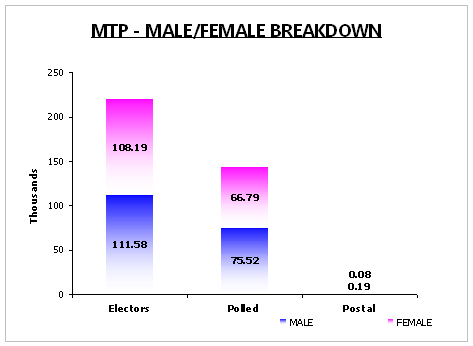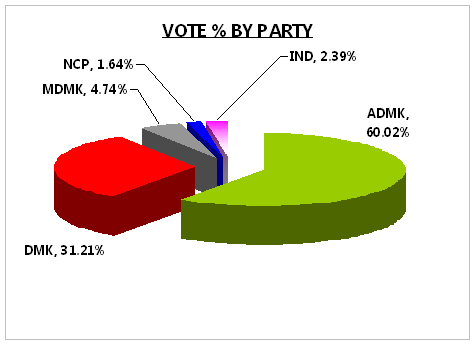 Data Source : Election Commission of India.