Mettupalayam's 2006 Assembly elections witnessed a record voter turnout of 74.23% a 10 % increase compared to the last 2001 elections and the highest since the 1991 elections. This election was very interesting with a very close result of only 142 votes that gave the AIADMK victory. The AIADMK candidate Mr.O.K.Chinnaraj hailing from Oosur near Tholampalayam village in the Karamadai area contested this assembly election for the first time against the Mr.B.Arun Kumar (MLA – 1996, Candidate – 1991, 2001, 2006) with the campaigning prowess.
---
The election results were counted three times to ensure that the counting was correct. As the Electronic Voting Machines (EVM) were introduced in this election, it was also alleged that these machines were inaccurate, however with a manual counting done later and declared by the election authoritiies it was ensured that the results were correct. It was also noted that the number of invalid votes was only 1 as opposed to 7 in the previous election and over 7800 in 1996. There was a short unrest between the two party members which was quickly brought under control by the Police and Law enforcement authorities. The DMDK candidate V.Saraswathi secured a handsome margin of about 7.18% (10866 votes) which is believed to have caused the close finish in this election.
The ruling party AIADMK lost the elections to the DMK alliance regaining power after losing out in the previous elections with a meagre 37 seats. The Congress party had merged with the Tamil Manila Congress formed by G.K.Muppanar in 1996. The merger consolidated the congress votes and hence help the Indian National Congress Party to consolidate their position in Tamil Nadu. Interestingly, no single party had the simple majority of 117 of the 234 seats, DMK with the highest number of seats (96) and while AIADMK followed with 61 seats needed an alliance partner to form government. The Congress won 34 seats while BJP went scoreless after going into this elections alone. PMK secured 18 seats followed by the Communists (14 seats). MDMK, the party that jumped alliance won 6 seats and the DPI won 2 seats. DMDK, the newly formed party while contesting in 232/234 seats managed to win just one seat at Vridhachalam Constituency with the party leader actor Vijayakant. The split was conducive for the formation of the new coalition government led by DMK leader, the 82-year old Dr.M Karunanidhi, becoming the Chief Minister of Tamil Nadu (5th time), with the unconditional support of the Congress.
RESULT ANALYSIS :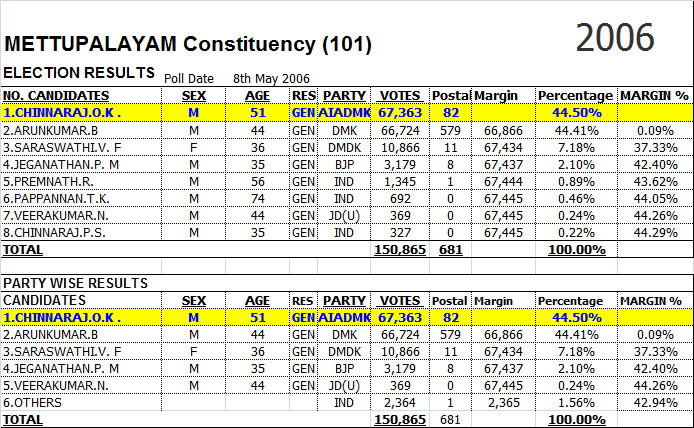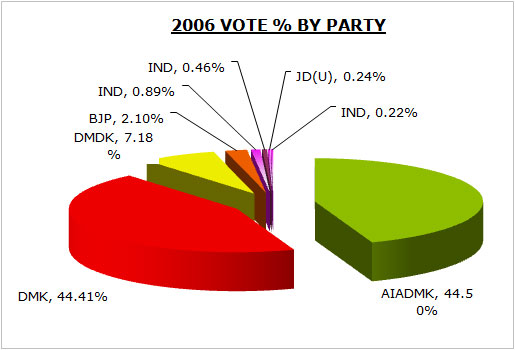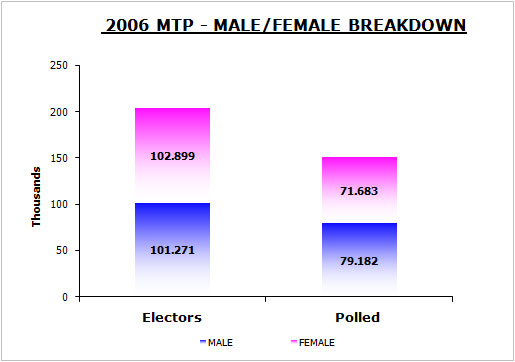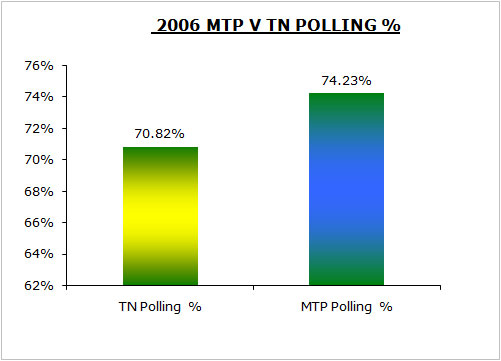 Data Source : Election Commission of India