Mettupalayam consitituency's sixth assembly election was conducted in 1977. This election was the first election for ADMK that was formed by the rebel Mr.M.G.Ramachandran. The ADMK party won this seat decisively. There were 8 candidates in all. This was the first time there were so many independent candidates. Mr.M.G.Ramachandran popularly known as MGR was elected Chief Minister to the Tamil Nadu Assembly. Mr.S.Palanisamy secured a win with a margin of 6.61% (5312 votes).
---
The other party candidates all belonged to the Vokkaliga community and hence assisted in the division of the vote bank based on community. This greatly assisted the debutant Mr.S.Palanisamy who became MLA for the first time since the party was founded. Icons such as T.T.S.Thippiah, M.K.Kempe Gowder, O.Arumugasamy, lost the election as they call combined secured 64.77% as opposed to 32.37% that Mr.S.Palanisamy obtained. The polling percentage was about 60% which decreased from 73.33% in 1971. This is believed to have been due to the uncertain position at the centre with emergency in this period.
RESULT ANALYSIS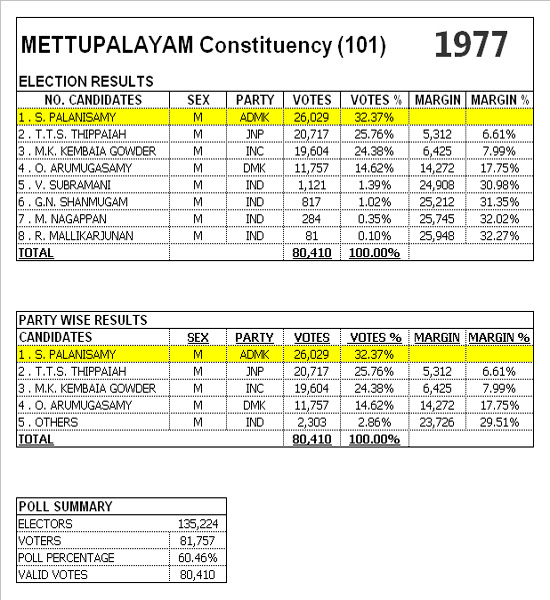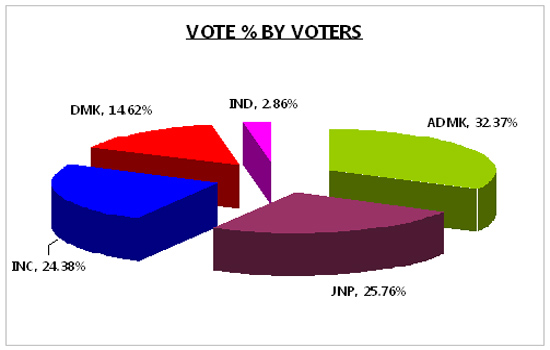 Data Source : Election Commission of India.