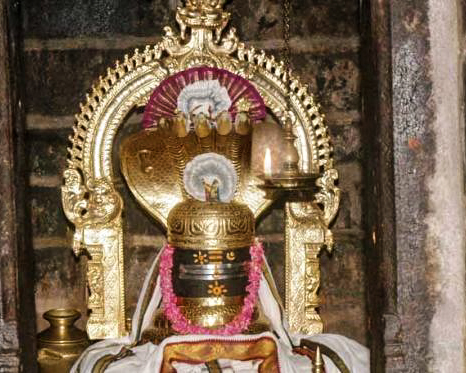 It is estimated that about 400 years ago, this area (Sathyamoorthy Nagar) was inhabited by wild animals and was a dense forest with the fresh spring river Bhavani flowing on the left side of a small hillock. Many sadhus, rishis and munis from the lingayat community in Karnataka who flocked these hills and chose this hillock as a sacred place for worship. They carved out a cave temple with three lingams (Bana Linga) brought from the River Bhavani. It is believed that the people who took the abode of the Lord, actually attained Moksha.
---
About 100 years ago lived Mr.Krishna Thevar who lived in this area of Mettupalayam. He was very fond of the Lord and was instrumental in changing the cave temple into a sivalayam with the inner sanctum, outer verandah and most importantly gopuram. His son Mr.Maha Thevar was also very keen on the maintenance of this temple.
Nanjunda and Sivagiri Swamigal were 2 priests who are believed to have attained Moksha in this abode who maintained this temple as a sanctum in very difficult times (before 100 years) of maintenance neglect.
Due to a continued neglect of maintenance at this temple for several years since Mr.Krishna and Mr.Maha Thevar, the temple premises was used by thiefs and culprits for all notorious activities. In 1982 (11.07.1982), A small worship group under the name of Vellingiri Andavar Thirusabai formed by the youth of Mettupalayam took initiative in cleaning up the temple and organizing the Kumbabhisekham at this temple by Sage Sundara Swami Adigal of Gaumara Madam who brought a bana lingam from Kasi.
He states that this temple has the divine geomatics of Kasi, with the Siva temple on the hillock, a burial ground on the left and followed further left by the River Bhavani. This is a very close match of the Kasi Vishwanth temple, the harichandra burial ground on the left and the sacred ganga flowing further left. It is also believed that this temple is similar in its location to Mount Kailash that is surrounded by large mountains. It is also special that the burial ground and the river are on the left side flowing in the eastern direction of this temple. The Bana lingam brought from Kasi is a natural stone in the shape of a lingam which is not sculptured (no chisel has touched the lingam). It is believed that to be washed of your sins, one needs to go to Kasi and worship Lord Vishwanath and bathe in the holy ganga. It is believed that this can be done here in Mettupalayam at this temple.
Aerial view of Sri Kasilingeswarar Temple at Mettupalayam on the banks of River Bhavani.
In 1987 (14.7.1987), the temple built shrines for Lordess Paraasakthi, Lord Balamurugan, and Panchalingam by Sage Sundara Swami Adigal of Gaumara Madam.
In 2003 (04.06.2003), a Kumbabhisekham was held under the blessing of Sage Sri Kumaragurupara Swami Adigal who elevate the status of this temple to "Poornasivalyam" (Full Shiva Temple).
In Sep 2009, Anaiythu Indu Samudhaya Sangam and Vellingiri Andavar Thirusabhai joined hands to form a new body called the Nandavana Sri Madeswara Alayam Arakattalai.
The immediate plan is to install a 60 feet Shiva on the hillock. Planning working is currently in progress.
Festivals at this temple
Panguni Uthiram
Maha Sivarathiri
Karthigai Deepam – Chokkappan Fire lighting at 6 pm.
Kalabhairavar Jayanthi Vizha – Theyi Pirai Astami (Astami towards new moon) Pooja.
Karthigai Somavara Pooja
Marghazi Special Pooja
Thiruvathirai Aarunthira Darshan
Thai – Pongal
Monthly Pradosam Poojas
Kirthigai Sasthi,
Amavasai (New Moon)
Pournami (Full Moon)
Ayipassi – Annaabhishekham
Poorna Sivalayam means a temple that is built and installed as per the Aadhaga Method. This temple will include Karpaga Vinayagar, Asirvatha Ganapathy, Visalatchi Amman, Guru Bhagawan, Lingothbhavar, Sandeskeswarar, Durgai, Maha Bhairavar, Kanni Moola Ganapathy, Balamurugan, Panchalingam and Navagrahangal.
Mount Kailash in the Himalayas.