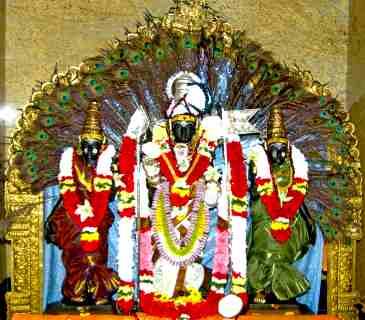 Kumaran Kundru is an Ancient one. The Hills was used by the farmers and shepherds for grazing their cattle. The farmers found a statue of murugan under a neem tree, they installed the statur and worshipped and built a small temple. The small temple was now grown into a big temple complex and the inner prakaram and outer prakaram are constructed later. now entire hill is covered with treea and greenary.
---
Temple Speciality:
In this temple lord muruga is worshipped along with valli and deivanai and known as kalyana subramania swami. On the tamil new year day the rays of the rising sun is seen on the idol of lord muruga and worshipped to get all the benefits. The annual car festival was conducted on thaipoosam day.
If worshipped continuously on three Kiruthigai, hurdles in marriage will vanish and if worshipped every thursday one can overcome on all Dhosams.
Annadhanam was done in this temple.
Important Festivals:
Kiruthigai, Amavasai, Shasti, Vaikasi Visakam, Suriya Oli Vizha, Suasamharam, Karthigai Deepam, Thaipoosam, Powrnami Girivalam (Monthly), Pradosa pooja,
Thadshinamoorthy special pooja on Thursday, Pankuni utram, Aruthra tharisanam, Annapisekam, Mahashivarathri.
Daily Pooja Timings:
07:30AM – Milk apisekam (பாலபிசேகம்).
12:30PM – Amutha Pooja (அமுத பூஜை).
07:30PM – Amutha Pooja (அமுத பூஜை).
Phone : 04254 – 288206.